= = = = = = = = = = = = = = = = = = = = = = = = = = = = = = = = = = = = = = = = = = = = = = = = = = = = = = = = = = = = = =
JUST LAUNCHED!
EAPL Teens is now on Twitter, Instagram, and Facebook and we're SO EXCITED! Don't forget to follow us for news, new book arrivals, contests, events, and the antics of the crazy librarians. But bear with us... we're still setting eveything up and don't have a lot of content up. YET. Use #EAPLYA to tell us what you're reading!
= = = = = = = = = = = = = = = = = = = = = = = = = = = = = = = = = = = = = = = = = = = = = = = = = = = = = = = = = = = = =
The Dark Days Club
by Alison Goodman
In April 1812, as she is preparing for her debut presentation to Queen Charlotte, Lady Helen Wrexhall finds herself in the middle of a conspiracy reaching to the very top of society, and learns the truth about her mother, who died ten years ago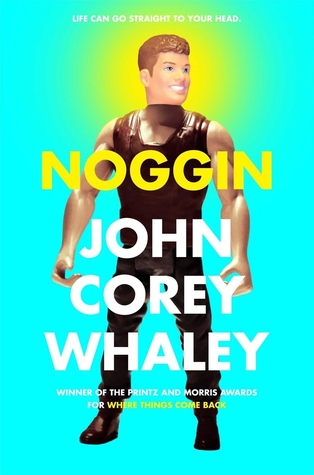 Noggin by John Corey Whaley
After dying at age sixteen, Travis Coates' head was removed and frozen for five years before being attached to another body, and now the old Travis and the new must find a way to coexist while figuring out changes in his relationships.
As World War II draws to a close, refugees try to escape the war's final dangers, only to find themselves aboard a ship with a target on its hull.
Who killed Gretchen Meyer? When Sonia's best friend is found murdered everything she thought she was sure of is turned on its head as the biggest suspect comes to Sonia for help proving his innocence.
Four fan-girls of The Ruperts, sneak away to a hotel in Manhattan to see their favorite boy band, but when one of them literally drags Rupert Pierpont to their room and they tie him up, things get complicated--and when Rupert is killed things go from bad to worse.
War has begun. Arin is in the thick of it with untrustworthy new allies and the empire as his enemy. Though he has convinced himself that he no longer loves Kestrel, Arin hasn't forgotten her, or how she became exactly the kind of person he has always despised.
As the war intensifies, both Kestrel and Arin discover that the world is changing. The East is pitted against the West, and they are caught in between. With so much to lose, can anybody really win? (Description from Goodreads.) Book 3 of The Winners trilogy.
Wink, Poppy, and Midnight's three separate voices come together to reveal the secrets and mysteries hiding in the woods around their home.
It's the beginning of the summer in a small town in Ireland. Emma O'Donovan is eighteen years old, beautiful, happy, confident. One night, there's a party. Everyone is there. All eyes are on Emma. The next morning, she wakes on the front porch of her house. She can't remember what happened, she doesn't know how she got there. She doesn't know why she's in pain. But everyone else does. Photographs taken at the party show, in explicit detail, what happened to Emma that night. But sometimes people don't want to believe what is right in front of them, especially when the truth concerns the town's heroes...
High-born Adelaide's family is forcing her into an arranged, loveless marriage. When she meets the dynamic Cedric Thorne, Adelaide poses as a servant to enter The Glittering Court, a group of impoverished girls Cedric trains to be proper ladies and thus married into a life of luxury and leisure. An unspoken attraction between the two paired with Cedric's discovery of Adelaide's true identity leads the two down a dangerous path.
In this near-future retelling of the Dickens classic "A Tale of Two Cities," a deadly revolution breaks out in a New York City divided by light and dark magic.
Desperate to outmaneuver the evil Alvar Kitsune, Moria allies with Gavril, while Ashyn discovers that she is the key to a ritual that could reawaken an ancient dragon and turn the tide of the coming battle in their favor. (Book 3 of the
Age of Legends trilogy
.)
Eddie and Emmy are high school sweethearts from the wrong side of the tracks. Looking for an escape from their dreary lives, they embark on an overnight camping trip in the Fear Street Woods with four friends. As Eddie is carving a heart into a tree, he and Emmy discover a bag hidden in the trunk. A bag filled with hundred-dollar bills. The six teens agree to leave the bag where it is until it's safe to use it. But when tragedy strikes Emmy's family, the temptation to skim some money off of the top becomes impossible to fight. There's only one problem. When Emmy returns to the woods, the bag of money is gone, and with it, the trust of six friends with a big secret. (Book 4 of the
Fear Street relaunch
)
After a messy divorce with Abraham Lincoln, Axe Cop is determined to find a new wife to help raise his newly adopted bat and monkey children. Also features the epic bowzer battle story "The Dogs," multiple "Ask Axe Cop" episodes, guest comics, "Axe Cop Presents," and much more.

Axe Cop reunites with Super Axe, an old friend from college, and the two of them decide to start a superteam of axe-wielding heroes to defend America called The American Choppers. They are joined by Captain Axe, Axe Girl, Axe Woman, Axe Dog, and other axe-wielding heroes. The only problem is that there is no bad guys left, but that all changes when mysterious giant creatures attack the city. (From Amazon.com)

After helping humanity take the town of Trost back from the Titans, Eren awakes to find herself held captive by Erwin Smith, leader of the Survey Corps, who needs Eren's help retrieving her father's research from Titan territory.
On the way to Eren's home, deep in Titan territory, the Survey Corps ranks are broken by a charge led by a female Titan! But this Abnormal is different--she kills not to eat but to protect herself, and she seems to be looking for someone. Armin comes to a shocking conclusion: she's a human in a Titan's body, just like Eren!
All books can be reserved for $0.50.
Click here to see the new titles arriving at the Palmer Branch this month!