It's back to school time...but that doesn't mean you shouldn't check out these new books! Hitting the shelves September at the Palmer Branch!
And the Trees Crept in by Dawn Kurtagich
When Silla and Nori arrive at their aunt's home, it's immediately clear that the "blood manor" is cursed. The creaking of the house and the stillness of the woods surrounding them would be enough of a sign, but there are secrets too--the questions that Silla can't ignore: Who is the beautiful boy that's appeared from the woods? Who is the man that her little sister sees, but no one else? And why does it seem that, ever since they arrived, the trees have been creeping closer?
The Cabin by Natasha Preston
They think they're invincible.
They think they can do and say whatever they want.
They think there are no consequences.
They've left me no choice.
It's time for them to pay for their sins.
A weekend partying at a remote cabin is just what Mackenzie needs. She can't wait to let loose with her friends. But a crazy night of fun leaves two of them dead-murdered.
With no signs of a forced entry or struggle, suspicion turns to the five survivors. Someone isn't telling the truth. And Mackenzie's first mistake? Assuming the killing is over...
The Dead Boyfriend by R.L. Stine
R.L. Stine's Fear Street series is back, and in The Dead Boyfriend, he tells the frightening tale of teenage love - and how it can go terribly, murderously wrong. Caitlin has never had a real boyfriend before. When she starts seeing Colin, she throws herself into the relationship with fervor. She ignores her friends who warn her that Colin may be a phony and that she is taking the whole thing too seriously. Caitlin is smitten. She doesn't care if she loses her friends. All she wants is Colin. When Caitlin approaches Colin with another girl, she completely loses it. She snaps. Everything goes red. When she comes back to her senses, she realizes that Colin is dead - and she has killed him. But if Colin is dead, how is he staring at her across a crowded party? Terrifying from the first page to the last, The Dead Boyfriend is a heart-racing young adult novel from the master of teen screams himself.
Fall of Hades (Michael Vey #6) by Richard Paul Evans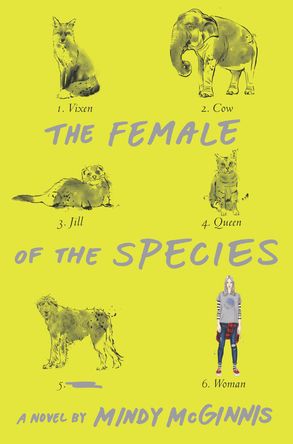 The Female of the Species by Mindy McGinnis
Alex Craft knows how to kill someone. And she doesn't feel bad about it.
Three years ago, when her older sister, Anna, was murdered and the killer walked free, Alex uncaged the language she knows best—the language of violence. While her own crime goes unpunished, Alex knows she can't be trusted among other people. Not with Jack, the star athlete who wants to really know her but still feels guilty over the role he played the night Anna's body was discovered. And not with Peekay, the preacher's kid with a defiant streak who befriends Alex while they volunteer at an animal shelter. Not anyone.
As their senior year unfolds, Alex's darker nature breaks out, setting these three teens on a collision course that will change their lives forever.
The Fever Code (The Maze Runner #5) by James Dashner
Once there was a world's end.
The forests burned, the lakes and rivers dried up, and the oceans swelled.
Then came a plague, and fever spread across the globe. Families died, violence reigned, and man killed man.
Next came WICKED, who were looking for an answer. And then they found the perfect boy.
The boy's name was Thomas, and Thomas built a maze.
Now there are secrets.
There are lies.
And there are loyalties history could never have foreseen.
This is the story of that boy, Thomas, and how he built a maze that only he could tear down.
All will be revealed.
A prequel to the worldwide Maze Runner phenomenon, The Fever Code is the book that holds all the answers. How did WICKED find the Gladers? Who are Group B? And what side are Thomas and Teresa really on? Lies will be exposed. Secrets will be uncovered. Loyalties will be proven. Fans will never see the truth coming. Before there was the Maze, there was The Fever Code.
Frost Like Night (Snow Like Ashes #3) by Sarah Raasch
Angra is alive, his Decay is spreading—and no one is safe.
Meira will do anything to save her world. With Angra trying to break through her mental defenses, she desperately needs to learn to control her own magic—so when the leader of a mysterious Order from Paisly offers to teach her, Meira jumps at the chance. But the true solution to stopping the Decay lies in a labyrinth deep beneath the Season Kingdoms. To defeat Angra, Meira will have to enter the labyrinth, destroy the very magic she's learning to control-- and make the biggest sacrifice of all.
Mather will do anything to save his queen. He needs to rally the Children of the Thaw, find Meira—and finally tell her how he really feels. But with a plan of attack that leaves no kingdom unscathed and a major betrayal within their ranks, winning the war—and protecting Meira—slips farther and farther out of reach.
Ceridwen will do anything to save her people. Angra had her brother killed, stole her kingdom, and made her a prisoner. But when she's freed by an unexpected ally who reveals a shocking truth behind Summer's slave trade, Ceridwen must take action to save her true love and her kingdom, even if it costs her what little she has left.
As Angra unleashes the Decay on the world, Meira, Mather, and Ceridwen must bring the kingdoms of Primoria together…or lose everything.
Labyrinth Lost by Zoraida Cordova
Alex is a bruja, the most powerful witch in a generation...and she hates magic. At her Deathday celebration, Alex performs a spell to rid herself of her power. But it backfires. Her whole family vanishes into thin air, leaving her alone with Nova, a brujo boy she can't trust. A boy whose intentions are as dark as the strange marks on his skin.
The only way to get her family back is to travel with Nova to Los Lagos, a land in-between, as dark as Limbo and as strange as Wonderland...
The Ruby Moon (The Glass Castle #2) by Trisha Priebe
In this delightful sequel to The Glass Castle, The Ruby Moon opens as preparations begin for the upcoming Olympiads. Join Avery as she learns that a male runner is needed for an important race and she volunteers so she can get close to the action. . . Can she hide her own identity? One slip-up could mean a trip to the dungeon--or worse. Much is at stake while the kingdom enjoys the greatest games on earth.
Tales of the Peculiar by Ransom Riggs
Wealthy cannibals who dine on the discarded limbs of peculiars. A fork-tongued princess. These are but a few of the truly brilliant stories in Tales of the Peculiar—the collection of fairy tales known to hide information about the peculiar world, including clues to the locations of time loops—first introduced by Ransom Riggs in his #1 bestselling Miss Peregrine's Peculiar Children series.
Riggs now invites you to share his secrets of peculiar history, with a collection of original stories in this deluxe volume of Tales of the Peculiar, as collected and annotated by Millard Nullings, ward of Miss Peregrine and scholar of all things peculiar. Featuring stunning illustrations from world-renowned artist Andrew Davidson, this compelling, rich, and truly peculiar anthology is the perfect gift for not only fans, but for all lovers of great storytelling.
Three Dark Crowns by Kendare Blake
Fans of acclaimed author Kendare Blake's Anna Dressed in Blood will devour her latest novel, a dark and inventive fantasy about three sisters who must fight to the death to become queen.
In every generation on the island of Fennbirn, a set of triplets is born: three queens, all equal heirs to the crown and each possessor of a coveted magic. Mirabella is a fierce elemental, able to spark hungry flames or vicious storms at the snap of her fingers. Katharine is a poisoner, one who can ingest the deadliest poisons without so much as a stomachache. Arsinoe, a naturalist, is said to have the ability to bloom the reddest rose and control the fiercest of lions.
But becoming the Queen Crowned isn't solely a matter of royal birth. Each sister has to fight for it. And it's not just a game of win or lose...it's life or death. The night the sisters turn sixteen, the battle begins.
The last queen standing gets the crown.
Women in Science by Rachel Ignotofsky
A charmingly illustrated and educational book, Women in Science highlights the contributions of fifty notable women to the fields of science, technology, engineering, and mathematics (STEM) from the ancient to the modern world. Full of striking, singular art, this fascinating collection also contains infographics about relevant topics such as lab equipment, rates of women currently working in STEM fields, and an illustrated scientific glossary. The trailblazing women profiled include well-known figures like primatologist Jane Goodall, as well as lesser-known pioneers such as Katherine Johnson, the African-American physicist and mathematician who calculated the trajectory of the 1969 Apollo 11 mission to the moon.
Women in Science celebrates the achievements of the intrepid women who have paved the way for the next generation of female engineers, biologists, mathematicians, doctors, astronauts, physicists, and more!
When her aunt Penelope, the only mother she's ever known, tragically disappears while walking in the woods surrounding their estate, Lucy finds herself devastated and alone. Margaret has been spending a lot of time in the attic. She claims she can hear her dead mother's voice whispering from the walls. Emotionally shut out by her father, Lucy watches helplessly as her cousin's sanity slowly unravels. But when she begins hearing voices herself, Lucy finds herself confronting an ancient and deadly legacy that has marked the women in her family for generations.