Comic and graphic novel fans know that Image comics are right up there with DC and Marvel. Image is celebrating their 25th anniversary this year and we want to celebrate their ridiculously amazing graphic novel series.
And because Image is so awesome, they were kind enough to donate an insane amount of goodies to our library last summer. All the Image comics we have in our collection are because of their massive donation, and we can't thank them enough.
Here's Image's origin story...
If you're still doubtful of their awesomeness, here are just a few of the series they've put out. If these don't change your mind, I don't know that we can be friends anymore.
Monstress by Marjorie Liu, Sana Takeda, and Rus Wooton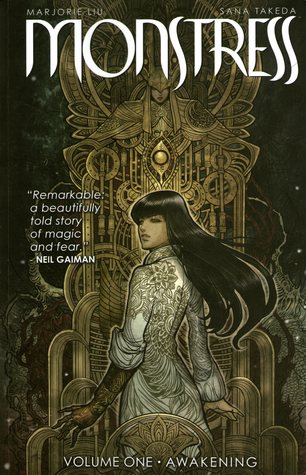 Set in an alternate world of art deco beauty and steampunk horror, Monstress tells the epic story of Maika Halfwolf, a teenage survivor of a cataclysmic war between humans and their hated enemies, the Arcanics. In the face of oppression and terrible danger, Maika is both hunter and hunted, searching for answers about her mysterious past as those who seek to use her remain just one step behind ... and all the while, the monster within begins to awaken
Volume 1: Awakening
Nowhere Men by Eric Stephenson, Nate Bellegarde, and Jordie Bellaire
"SCIENCE IS THE NEW ROCK 'N' ROLL!" So said Dade Ellis, Simon Grimshaw, Emerson Strange, and Thomas Walker at the dawn of a new age of enlightenment that ushered in a boom in scientific advancement. As the research supergroup World Corp., they became the most celebrated scientists of all time. They changed the world - and we loved them for it. But where did it all go wrong? And when progress is made at any and all cost, who ultimately pays the price?
Think Tank by Matt Hawkins and Rahsan Ekedal
Dr. David Loren is many things: child prodigy, inventor, genius, slacker-- mass murderer. When a military think tank's smartest scientist decides he can no longer stomach creating weapons of destruction, will he be able to think his way out of his dilemma or find himself subject to the machinations of smaller men?
Volume 1
The Walking Dead by Robert Kirkman and Tony Moore
Police officer Rick Grimes is shot on the job and wakes up a month later to find that the world that he knows is gone. Zombies have taken over and are killing and eating those who are still alive. He sets out toward Atlanta in the hope that his family is still alive and endures many horrors along the way.
Volume 1: Days Gone Bye
Volume 2: Miles Behind Us
The Wicked + The Divine by Kieron Gillen, Jamie McKelvie,
Matt Wilson, and
Clayton Cowles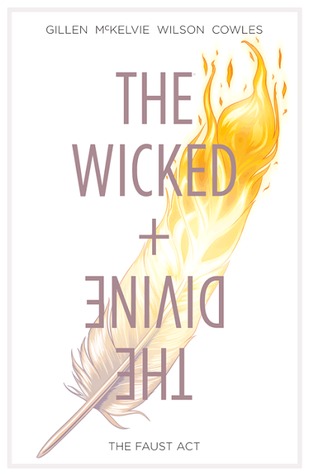 Every ninety years, twelve gods incarnate as humans. They are loved. They are hated. In two years, they are dead. This is a world where gods are the ultimate pop stars and pop stars are the ultimate gods. But remember: just because you're immortal, doesn't mean you're going to live forever.
*Staff favorite!
Volume 1: The Faust Act
Volume 2: Fandemonium
Volume 3: Commercial Suicide
Volume 4: Rising Action
The next few series we don't have in our collection (yet), but we love them and think they're fantastic and we want to spotlight them anyway. If you're interested, we can interlibrary loan them for you (which is a fancy way of saying that we can get them for you from another library outside of the Lehigh Valley).
East of West by Jonathan Hickman, Nick Dragotta, Frank Martin, and Rus Wooton
This is the world. It is not the one we wanted, but it is the one we deserved. The Four Horsemen of the Apocalypse roam the Earth, signaling the End Times for humanity, and our best hope for life, lies in Death.
Lazarus by Greg Rucka, Michael Lark, and Santiago Arcas
In a dystopian near-future, government is a quaint concept, resources are coveted, and possession is 100% of the law. A handful of Families rule, jealously guarding what they have and exploiting the Waste who struggle to survive in their domains. Forever Carlyle defends her family's holdings through deception and force as their protector, their Lazarus. Shot dead defending the family home, Forever's day goes downhill from there...
Paper Girls by Brian K. Vaughan, Cliff Chiang, and Matthew Wilson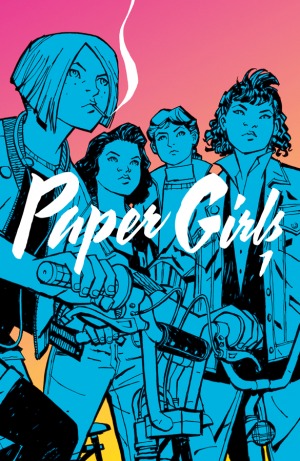 In the early hours after Halloween of 1988, four 12-year-old newspaper delivery girls uncover the most important story of all time. Suburban drama and otherworldly mysteries collide in this smash-hit series about nostalgia, first jobs, and the last days of childhood.
Summaries taken from Goodreads.