Does anyone else love Halloween? Because I
LOVE
Halloween. The costumes, the candy, the horror movie marathons on TV... what's not to love?!
In honor of one of our favorite holidays at the library, I'm counting down with... *dramatic drumroll* 13 DAYS OF HALLOWEEN BOOKS.
What better way to celebrate than with a book every day with some favorite Halloween-themed characters?! I'll feature books about witches, vampires, cults, killers, zombies, ... all the fun stuff. Some titles will be scary and some may be goofy, some you may know and others may be a little less familiar. However, NONE of them will include sparkly vampires.
I'm going to kick off the countdown with a monster/beasty theme, so the selection for
Day 1
is....
Bonechiller by Graham McNamee
"Danny's dad takes a job as caretaker at a marina on the shore of a vast, frozen lake in Harvest Cove, a
tiny town tucked away in Canada's Big Empty. If you're looking for somewhere to hide, this is it.

It's the worst winter in years. One night, running in the dark, Danny is attacked by a creature so strange and terrifying he tries to convince himself he was hallucinating. Then he learns about Native American legends of a monster that's haunted the lake for a thousand years. And that every generation, in the coldest winters, kids have disappeared into the night. People think they ran away.

Danny knows better. Because now the beast is after him."
A book about an ancient monster stalking a small town's residents? Sign. Me. Up. (Not that I actaully want to be stalked by said monster, I just want to read about it.)
To get the Halloween season off to a creepy start, pick up
Bonechiller
today!
If Bonechiller doesn't sound like your thing, try some of these other monster filled titles...
My Boyfriend is a Monster series by various authors
Funny, quirky, fast-paced graphic novels about boyfriends who are literally monsters.
Incorporating genuine scariness and suspense, each of the eight books in the series are set in the same strange, paranormal world, with some recurring characters.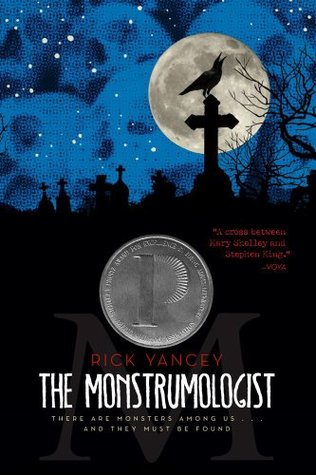 The Monstrumologist by Rick Yancey
In 1888, twelve-year-old Will Henry chronicles his apprenticeship with Dr. Warthrop, a scientist who hunts and studies real-life monsters, as they discover and attempt to destroy a pod of Anthropophagi. (Book 1 of the Monstrumologist series.)