Perhaps one of the most iconic Halloween ghouls of all time is, of course, the witch. You can't go one Halloween without seeing at least five people in tall pointy hats, long black cloaks, and warts drawn on their noses (painted green faces are acceptable, but not required).
WITCHES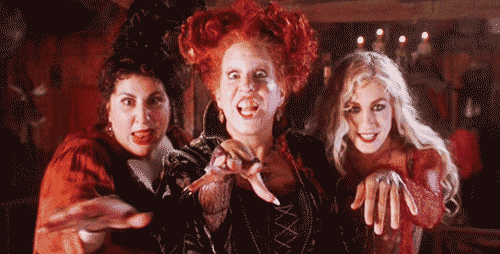 *cackle cackle*
"Bewitching can be a beast.
Once, I put a curse on a beastly and arrogant high school boy. That one turned out all right. Others didn't.
I go to a new school now—one where no one knows that I should have graduated long ago. I'm not still here because I'm stupid; I just don't age.
You see, I'm immortal. And I pretty much know everything after hundreds of years—except for when to take my powers and butt out.
I want to help, but things just go awry in ways I could never predict. Like when I tried to free some children from a gingerbread house and ended up being hanged. After I came back from the dead (immortal, remember?), I tried to play matchmaker for a French prince and ended up banished from France forever. And that little mermaid I found in the Titanic lifeboat? I don't even want to think about it.
Now a girl named Emma needs me. I probably shouldn't get involved, but her gorgeous stepsister is conniving to the core. I think I have just the thing to fix that girl—and it isn't an enchanted pumpkin. Although you never know what will happen when I start . . . bewitching."
If you're into the witch thing but Bewitching isn't for you, or just want something a little different, try these out:
Cyn and Avian are far from a perfect match. She's a witch who casts spells on men so she can steal their cars. He spends his time being judge, jury, and executioner to the truly evil in the supernatural realm.
Then they
discover that Cyn is an Echo, a conduit for souls of the dead.
The only way to prevent Cyn from losing complete control is to return to Sleepy Hollow and vanquish the source of her power—but she may not survive the process. And if she does? She won't ever be the same.
Popular cheerleader Indigo Blackwood, sixteen, finds her perfect life threatened when Bishop, a tattooed, leather-clad stranger, tells her the family Bible just stolen from the attic of her mother's occult shop could mean the end to all witches, including, he says, Indigo herself.
Suddenly forced into a centuries-old war between witches and sorcerers, Indie's about to uncover the many dark truths about her life—and a future unlike any she ever imagined on top of the cheer pyramid.
Josephine Hemlock has spent the last 10 years hiding from the Curse that killed her mother. But when a mysterious man arrives at her ivy-covered, magic-fortified home, it's clear her mother's killer has finally come to destroy the rest of the Hemlock bloodline.
The more truth Jo uncovers, the deeper she falls into witchcraft darker than she ever imagined. Trapped and running out of time, she begins to wonder if the very Curse that killed her mother is the only way to save everyone she loves.
If you'd rather read something non-fiction and are curious about the Salem Witch Trials, this one may be right up your alley:
Salem, Massachusetts, 1692. In a plain meetinghouse a woman stands before her judges. The accusers, girls and young women, are fervent and overexcited. As the trial proceeds the girls begin to wail, tear their clothing, and scream that the woman is hurting them. Some of them expose wounds to the horrified onlookers, holding out the pins that have stabbed them -- pins that appeared as if by magic. Are they acting or are they really tormented by an unseen evil? Whatever the cause, the nightmare has begun: The witch trials will eventually claim twenty-five lives, shatter the community, and forever shape the American social conscience.
If you still haven't had your fill of curses and witchcraft, take a look at Ashley's post for even more witchy reads.
*Remember it's always a good idea to cite your sources. These book summaries are taken from Goodreads, which are taken from book jackets, which come from the publishers of the aforementioned books.