Written by Mary N. :)
Kieran Scott in all her adorable glory.
I have a penchant for novels about teens getting lost in the woods and being stalked by serial killers. Kieran Scott wrote
What Waits in the Woods
, and I read it twice. Because I couldn't remember if I read it the first time. I just finished it... again. I was also watching Haven, so I pictured her ruggedly handsome mountaineer guy as Eric Balfour (hubba hubba). I was ALSO listening to Modern Baseball, so I pictured the other guy as Jake Ewald. He's adorable.
Oh that was fun.
She has written PLENTY of other romancey-teen-agey YA books as well, including the True Love trilogy, the Cheerleader trilogy, and the He's So/She's So trilogy. Lots of trilogies. Which I admittedly haven't read, but I can vouch for
What Waits in the Woods
. I mean, I read it twice. It was pretty dang good.
I should probably also get into the books she wrote as Kate Brian (did you know Kieran Scott and Kate Brian are the same person?! That makes her accomplishments even more incredible!), but I don't want to write an entire book myself just based on her accomplishments. She's insanely good. Just believe me. We have her books, you should read them.
Plus, she has a brand new shiny pretty book coming out on April 4
!
Will we have it at the library, you ask? YOU BET YOUR GREAT FLAMING GOBS OF SWEET SASSAFRAS WE WILL.
All book summaries taken from Goodreads.
Written as Kieran Scott:
Pretty Fierce
Kaia has been on the run her whole life. The daughter of professional assassins, she knows true danger—and she'll do anything to survive. After her parents vanished during a job gone bad, Kaia's spent the last year in hiding, trying to blend in as an ordinary teenager, and there's no one who makes her feel more normal or more special than her boyfriend, Oliver.

But when she's jumped by a hit man, and Oliver catches her fighting back, Kaia's secret is exposed. In a split-second decision, she flees the small town, taking Oliver with her. With professional killers stalking their every move, can Oliver and Kaia protect each other long enough to uncover the mysteries of her past?
What Waits in the Woods
It's a beautiful, sunny day. Callie Velasquez holds hands with her boyfriend Jeremy as they follow Callie's new BFFs Penelope and Lissa up the trail. The four friends are embarking on a camping trip -- a trip that immediately goes awry. They lose their way on the trail, and encounter a charismatic stranger with questionable motives. And when Callie stumbles upon a dead body, it becomes clear that the danger that lies in the woods is deadlier than she could have ever imagined. Tensions mount and friendships are tested as these teenagers try to survive the most sinister of circumstances.
The Cheerleader Trilogy
I Was a Non-Blonde Cheerleader
Brunettes Strike Back
A Non-Blonde Cheerleader in Love
As a brunette on the all-blonde cheerleading squad at her new Florida high school, sophomore Annisa Gobrowski tries to fit in with her popular teammates without losing the friendship of Bethany, the only other non-blonde at the school.
The He's So/She's So Trilogy
She's So Dead To Us
He's So Not Worth It
This is So Not Happening
Told in two voices, high school juniors Allie, who now lives on the poor side of town, and Jake, the "Crestie" whose family bought her house, develop feelings for one another that are complicated by her former friends, his current ones, who refuse to forgive her for her father's bad investment that cost them all.
The True Love Trilogy
Only Everything
Complete Nothing
Something True
Eros (aka Cupid) is sent to earth after disobeying the gods and required to match three couples without her powers.
Written as Kate Brian: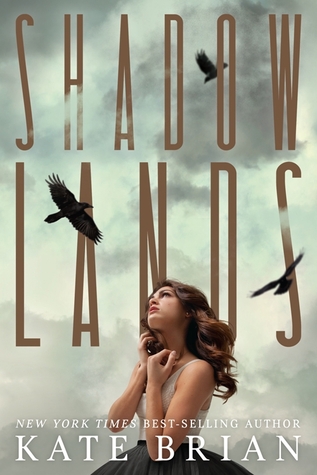 Shadowlands Trilogy
Shadowlands
Hereafter
Endless
Rory, a girl in witness protection, thinks the serial killer she turned in has found her and is killing people around her. But as she investigates, she discovers a dark, disturbing truth about her new hometown.
Private Series
Private
Invitation Only
Untouchable
Confessions
Inner Circle
When Reed Brennan wins a scholarship to Easton Academy, she quickly discovers that the Billings Girls are the most beautiful, intelligent, and powerful group on campus, so Reed tries to become a member. But when she arrives, everyone is just a bit more sophisticated, gorgeous, and wealthier than she ever thought possible. Reed realizes that even though she as been accepted to Easton, Easton has not accepted her and she feels like she's on the outside, looking in.
Lucky T
Carrie Fitzgerald is the luckiest girl: She is the only sophomore on the varsity basketball team, she always had the lead in the school play, and she has the cutest boyfriend in school. Carrie Fitzgerald is also the most superstitious girl: She attributes all of her good luck to a Moroccan T-shirt that her father sent her from one of his distant jaunts around the world. When her mother accidentally donates Carrie's lucky T to Help India and her good luck starts running out, Carrie does what any logical girl would do -- she travels halfway around the world to get it back. But as she scours a foreign land for her luck, she finds a lot more than she ever expected. She's going to need more than luck to find her way back home again.
Megan Meade's Guide to the McGowan Boys
When she was nine, Megan Meade met a group of terrible, mean, Popsicle-goo-covered boys, the sons of her father's friend -- the McGowan boys. Now, seven years later, Megan's army doctor parents are shipping off to Korea and Megan is being sent to live with the little monsters, who are older now and quite different than she remembered them.
Living in a house with seven boys will give Megan, who has never even been kissed, the perfect opportunity to learn everything there is to know about boys. And she'll send all her notes to her best friend, Tracy, in...
Megan Meade's Guide to the McGowan Boys
Observation #1: Being an army brat sucks. Except that this is definitely a better alternative to moving to Korea. Observation #2: Forget evil, laughing, little monsters. These guys have been touched by the Abercrombie gods. They are a blur of toned, suntanned perfection.
Observation #3: I need a lock on my door. STAT.
Observation #4: Three words: six-pack abs.
Observation #5: Do not even get me started on the state of the bathroom. I'm thinking of calling in a hazmat team. Seriously.
Observation #6: These boys know how to make enemies. Big time.
Megan Meade will have to juggle a new school, a new family, a new crush -- on the boy next door, as in next bedroom door -- and a new life. Will she survive the McGowan boys?
Look for Kieran Scott/Kate Brian (which makes it sound like she has a split personality, but that's really not what's happening here at all) on her website (which is honestly pretty fantastic), Twitter, or chat with her one-on-one at YA Fest 2017!