Some of us get along great with our mothers. Some others, not so much.
Most of us know that parents are usually completely absent from YA books. So when we actually DO see parents in YA books, they're usually either "set the bar way too high" awesome or unforgivably terrible.
So for this weekend, we're spotlighting all the fictional moms out there. Some we love, some are awful, and some drive us crazy (just like most real life moms, AMIRITE!)
But seriously, this Mother's Day weekend a very real shout out goes to all the real life moms who make countless sacrifices for us throughout our lives. Cheers to all you mamas out there!
For Keeps by Natasha Friend
Just as sixteen-year-old Josie and her mother Kate finally begin trusting men enough to start dating seriously, the father Josie never knew comes back to town and shakes up what was already becoming a difficult mother-daughter relationship.
Why this book?
Well, it's pretty obvious from the summary. But Josie and relationship can best be described at Rory and Lorelei Gilmore-esque.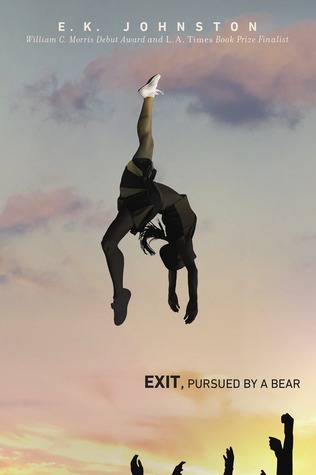 Exit, Pursued by a Bear by E.K. Johnston
At cheerleading camp, Hermione Winters is drugged and raped, but she is not sure whether it was one of her teammates or a boy on another team--and in the aftermath she has to deal with the rumors in her small Ontario town, the often awkward reaction of her classmates, the rejection of her boyfriend, the discovery that her best friend, Polly, is gay, and above all the need to remember what happened so that the guilty boy can be brought to justice.
Why this book?
Even though their relationship isn't a huge part of the story, Hermione's mom (and dad too, actually) are both loving, caring, supportive, and respect their daughter's ability to make her own decisions. Mr. and Mrs. Winters are the best fictional parents I think I've ever seen.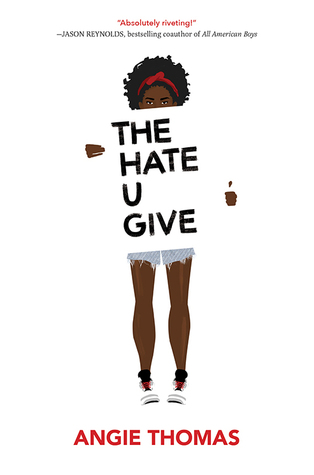 The Hate U Give by Angie Thomas
After witnessing her friend's death at the hands of a police officer, Starr Carter's life is complicated when the police and a local drug lord try to intimidate her in an effort to learn what happened the night Kahlil died.
Why this book?
Starr's mom is #MomGoals. She's supportive and loves her kids, but will NOT let her kids get away with pulling any crap. She's authoritative but caring, and wants the best for her entire family.
Not the Best, But Not the Worst...
Love and First Sight by Josh Sundquist
Sixteen-year-old blind teen Will Porter undergoes an experimental surgery that enables him to see for the first time, all while navigating a new school, new friends, and a crush.
Why this book?
Will's mom means well, but the woman has no sense about her at all (bless her heart). It's hard to dislike her because she tries to be supportive, but I'd be pretty frustrated if I had to deal with that parental situation on a regular basis.
Scrambled Eggs at Midnight by Brad Barkley and Heather Hepler
Calliope and Eliot, two fifteen-year-olds in Asheville, North Carolina, begin to acknowledge some unpleasant truths about their parents and form their own ideas about love.
Why this book?
Calliope mom is kind of adorable, but a bit mortifying. Cal states right out,
"My mother is a wench. It says so right on her W-2."
Cal and her mom follow Renaissance Faires around the country, never having a permanent home. Cal's life is pretty unstable and her mom isn't very responsible, but she's not neglectful.
Fingerprints of You by Kristen-Paige Madonia
After spending her life moving from place to place with her single mother Stella, pregnant seventeen-year-old Lemon takes a bus to San Francisco to seek the father she never knew, as well as truths about her mother and herself.
Why this book?
Stella isn't exactly the best mother figure (which is evidenced by the constant flow of drinks and men in her life), but Lemon learns a lot about her mom after she becomes pregnant herself and finds herself trying to figure out what it means to be a mom.
Allegedly by Tiffany D. Jackson
When Mary, a teenager living in a group home, becomes pregnant, authorities take another look at the crime for which Mary was convicted when she was nine years old.
Why this book?
Mary is in juvie because of a crime she
allegedly
committed: killing a baby that was in her mother's care. Her mother is a conniving, self-centered woman who is "all about appearances" (Mary's words, not mine) who doesn't lift one finger to help her daughter. She definitely goes under the category of BAD MOM.