There's only one day left.
Did you get that? ONE. DAY. LEFT.
Are all your senses tingling with excitement for Halloween and the end of our countdown??! (If they're just tingling for no reason, then you should probably see a doctor.)
If you don't have your costume picked out, then today's theme will not give you any inspiration whatsoever. Unless you have a large group of friends that are willing to commit to it with you.
Today's theme iiiiisssssss...
Cults
(Not to be confused with
the occult
, which was the topic of
Day 10
in the
13 Days of Halloween Books countdown
).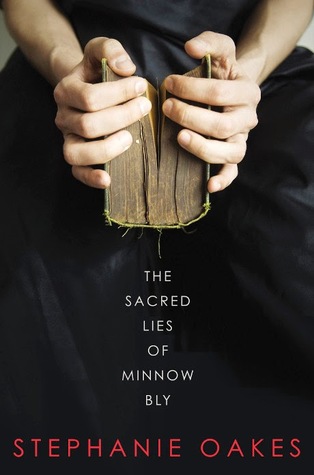 "The Kevinian cult has taken everything from seventeen-year-old Minnow: twelve years of her life, her family, her ability to trust.

And when she rebelled, they took away her hands, too.

Now their Prophet has been murdered and their camp set aflame, and it's clear that Minnow knows something—but she's not talking. As she languishes in juvenile detention, she struggles to un-learn everything she has been taught to believe, adjusting to a life behind bars and recounting the events that led up to her incarceration. But when an FBI detective approaches her about making a deal, Minnow sees she can have the freedom she always dreamed of—if she's willing to part with the terrible secrets of her past."
I'd say we're going to mix it up with these next few books on cults, but can you really vary on a cult theme? Probably not. There are very few stories in which cults are portrayed as positive things, but many of them feature strong characters fighting for freedom and/or redemption.
The Chosen One by Carol Lynch Williams
In a polygamous cult in the desert, Kyra, not yet fourteen, sees being chosen to be the seventh wife of her uncle as just punishment for having read books and kissed a boy, in violation of Prophet Childs' teachings, and is torn between facing her fate and running away from all that she knows and loves.
The Patron Saint of Butterflies by Cecilia Galante
When her grandmother takes fourteen-year-old Agnes, her younger brother, and best friend Honey and escapes Mount Blessing, a Connecticut religious commune, Agnes clings to the faith she loves while Honey looks toward a future free of control, cruelty, and preferential treatment.
Family by Micol Ostow
In the 1960s, Melinda leaves an abusive home for San Francisco, meets the charismatic Henry, and follows him to his desert commune, but soon his "family" becomes violent against rich and powerful people and she is compelled to join in.
*Remember it's always a good idea to cite your sources. These book summaries are taken from Goodreads, which are taken from book jackets, which come from the publishers of the aforementioned books.