HAPPY HALLOWEEN!
You've stuck with us for 13 long days as we counted down some of our favorite spooky, scary, and weird Halloween-ish themes, and now we've finally made it to the end. The big day is here. Grab your Halloween costumes and a massive bowl of candy while we deliver the last day of our
coundown
. The final theme for
Day 13
is...
WEREWOLVES
Wolves are beautiful creatures, but thanks to the depiction of werewolves in popular culture, the sound of a wolf howling at a full moon is enough to make us lock our doors for fear of wolfmen and women trolling the night for victims (especially if said wolf is a Teen Wolf). But werewolf books, on the other hand, those are just plain fun.
May
we suggest this one, which... we're just going to come right out and say it: is just plain weird. Which is largely why we recommend it. Just don't say we didn't warn you...
"Welcome to Gil's All Night Diner, where zombie attacks are a regular occurrence and you never know what might be lurking in the freezer. . . .

Duke and Earl are just passing through Rockwood County when they stop at the diner for a quick bite to eat. They aren't planning to stick around--until Loretta, the eatery's owner, offers them one hundred dollars to take care of her zombie problem. Given that Duke is a werewolf and Earl's a vampire, this looks right up their alley.

But the shambling dead are just the tip of a particularly spiky iceberg. Seems someone's out to drive Loretta from the diner, and more than willing to raise a little hell on earth if that's what it takes. Before Duke and Earl get to the bottom of the diner's troubles, they'll run into such otherworldly complications as undead cattle, an amorous ghost, a jailbait sorceress, and the terrifying occult power of pig Latin. And maybe--just maybe--the End of the World, too."
If supernatural romance is more your thing, then here are a few others if you want more hair-raising books (we know, it's an old and tired expression, but we still love it) with more of a romantic storyline.
Hemlock by Kathleen Peacock
"Since then, Mac's life has been turned upside down. She is being haunted by Amy in her dreams, and an extremist group called the Trackers has come to Mac's hometown of Hemlock to hunt down Amy's killer: A white werewolf.
Lupine syndrome - also known as the werewolf vius - is on the rise across the country. Many of the infected try to hide their symptoms, but bloodlust is not easy to control."
Predator by Janice Gable Bashman
"Sixteen-year-old Bree Sunderland must inject herself with an untested version of her father's gene therapy to become a werewolf in order to stop a corrupt group of mercenaries from creating a team of unstoppable lycanthrope soldiers.
Predator gives the werewolf legend a couple of new spins by introducing the Benandanti (an actual folkloric belief that certain families of Italy and Livonia were werewolves who fought against evil), as well as a modern scientific approach to mutation."
Nightshade by Andrea Cremer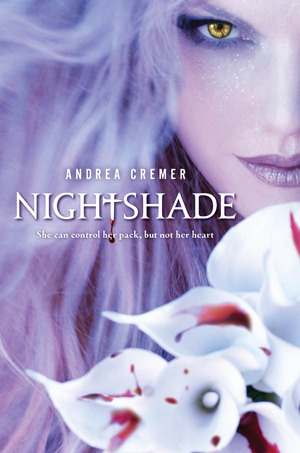 "Calla Tor has always known her destiny: After graduating from the Mountain School, she'll be the mate of alpha wolf Ren Laroche and fight with him, side by side, ruling their pack and guarding sacred sites for the Keepers. But when she violates her masters' laws by saving a beautiful human boy out for a hike, Calla begins to question her fate, her existence, and the very essence of the world she has known. By following her heart, she might lose everything- including her own life."
Supernatural romance not your thing? And you just want a fun and slightly less weird but still amusing werewolf type book? Yea, there's a book for that.
Bad Hair Day by Carrie Harris
"Kate Grable is geeked out to shadow the county medical examiner as part of her school's pre-med program. Except when he's arrested for murder, she's left with the bodies. And when Kate's brother Jonah stumbles upon a dead gamer girl, she realizes that the zombie epidemic she cured last fall was only the beginning of the weirdness taking over her town.
Someone's murdering kids—something really hairy. And strong. Possibly with claws. Is it werewolf awesomeness like Jonah and his dorktastic friends think?"
And now the day is finally here. The day when we must say goodbye to our countdown. It's been a fun ride, and we're already excited for next year.
*Remember it's always a good idea to cite your sources. These book summaries are taken from Goodreads, which are taken from book jackets, which come from the publishers of the aforementioned books.