Today is International Women's Day! In the spirit of today (and Women's History Month), we pulled out some titles that spotlight women as the intelligent, strong-willed, and courageous people that we are.
FICTION
Flygirl by Sherri L. Smith
During World War II, a light-skinned African American girl "passes" for white in order to join the Women Airforce Service Pilots.
*Also included in our Black History Month post.
Why did we include this title?
The main character in this book crosses gender and racial barriers to pursue her dream of being a fighter pilot like her father. It was hard enough being a woman or black during that time period, but being black AND a woman? This girl has serious guts. However, that also means sacrificing her own identity (by pretending to be white in order to serve), so she must decide what's more important to her.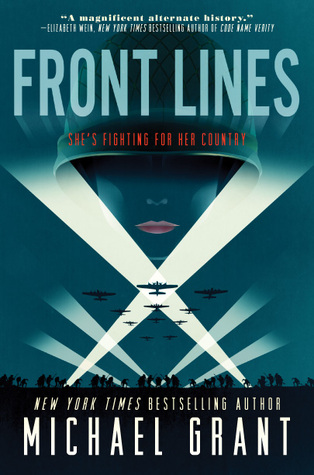 Front Lines by Michael Grant
1942, World War II. The most terrible war in human history. The Nazis rampage across Europe and eye far-off America. The green, untested American army is going up against the greatest fighting force ever assembled--the armed forces of Nazi Germany. But something has changed. A court decision makes females subject to the draft and eligible for service. So in this World War II, women and girls fight, too. They will fear and they will rage; they will suffer and they will inflict suffering; they will hate and they will love. They will fight the greatest war the world has ever known.
Why did we include this title?
Event though many women did serve in the Armed Forces during World War II, this story re-imagines the war with women on the front lines of battle. That sounds a little crazy, but thousands of women are putting their lives on the line TODAY as active service members at home and overseas. This story may be a re-imagining, but for those women this story is all too realistic.
Beauty Queens by Libba Bray
When a plane crash strands thirteen teen beauty contestants on a mysterious island, they struggle to survive, to get along with one another, to combat the island's other diabolical occupants, and to learn their dance numbers in case they are rescued in time for the competition.
Why did we include this title?
The girls that land on the island may be typical bubbleheaded beauty pageant contestants, but they don't leave that way. Their experiences on the island help them be honest with each other (and themselves) about who they really are. It's self-discovery and empowerment to the MAX.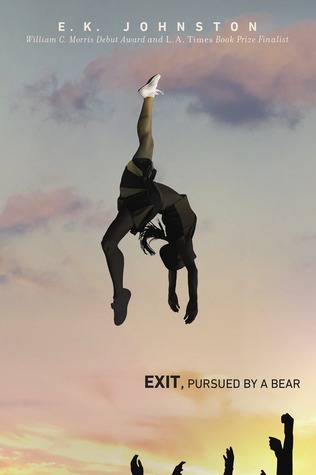 Exit, Pursued by a Bear by E.K. Johnston
At cheerleading camp, Hermione is drugged and raped, but she is not sure whether it was one of her teammates or a boy on another team--and in the aftermath she has to deal with the rumors in her small Ontario town, the often awkward reaction of her classmates, the rejection of her boyfriend, the discovery that her best friend, Polly, is gay, and above all the need to remember what happened so that the guilty boy can be brought to justice.
Why did we include this title?
Hermione is a strong young girl (sound like any other Hermiones we know??) who survives a horrible experience, which she uses to find inner strength and take control of her own life. Plus, E.K. Johnston definitely proves that cheerleading is hard work and absolutely IS a sport, thankyouverymuch.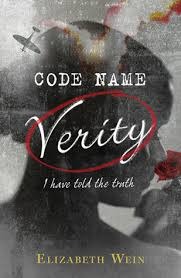 Code Name Verity by Elizabeth Wein
In 1943, a British fighter plane crashes in Nazi-occupied France and the survivor tells a tale of friendship, war, espionage, and great courage as she relates what she must to survive while keeping secret all that she can.
Why did we include this title?
Not only does it talk about female auxiliary pilots and female spies during World War II, it's a story of friendship and strong women.
NON-FICTION
Women in Science: 50 Fearless Pioneers Who Changed the World by Rachel Ignotofsky
A collection of artworks inspired by the lives and achievements of fifty famous women in science, technology, engineering, and mathematics, from the ancient world to the present, profiles each notable individual.
Here We Are: Feminism for the Real World edited by Kelly Johnson
A scrapbook-style teen guide to understanding what it really means to be a feminist packed with contributions from a diverse range of voices, including celebrities and public figures, and featuring more than forty-four pieces, including an eight-page insert of full-color illustrations.
Hidden Figures by Margot Lee Shetterly
Before John Glenn orbited the earth or Neil Armstrong walked on the moon, a group of dedicated female mathematicians known as "human computers" used pencils, slide rules and adding machines to calculate the numbers that would launch rockets, and astronauts, into space. Among these problem-solvers were a group of exceptionally talented African American women, some of the brightest minds of their generation.
*Also included in our Black History Month post.
I am Malala: How One Girl Stood Up for Education and Changed the World by Malala Yousafzai
I Am Malala. This is my story. Malala Yousafzai was only ten years old when the Taliban took control of her region. They said music was a crime. They said women weren't allowed to go to the market. They said girls couldn't go to school. Raised in a once-peaceful area of Pakistan transformed by terrorism, Malala was taught to stand up for what she believes. So she fought for her right to be educated. And on October 9, 2012, she nearly lost her life for the cause: She was shot point-blank while riding the bus on her way home from school. No one expected her to survive. Now Malala is an international symbol of peaceful protest and the youngest ever Nobel Peace Prize nominee. This is the remarkable story of a girl who knew from a young age that she wanted to change the world -- and did. Malala's powerful story will open your eyes to another world and will make you believe in hope, truth, miracles and the possibility that one person -- one young person -- can inspire change in her community and beyond.
Courageous Women Rebels by Joy Crysdale
An in-depth look at the lives of ten women from around the world who made a difference in the areas of politics, equality, disability and women's rights.
Rad American Women A-Z by Kate Schatz
Profiled are 26 American women from the 18th through 21st centuries, who have made-or are still making--history as artists, writers, teachers, lawyers, or athletes. The women come from a variety of economic and ethnic backgrounds and many had to overcome extreme hardships. One woman represents each alphabetical letter beginning with Angela Davis, an activist, teacher, and writer, and concludes with Zora Neale Hurston, an anthropologist and writer.
"Women are always at the front of revolutions."
-Bothaina Kamel